Articles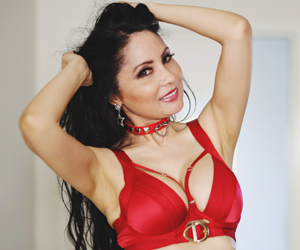 Whilst the pandemic tried to shut the world down, it couldn't stop our stunning Hottie Of The Year winner and...
Rebecca Daniels | November 03 2022
RedHotPie's Resident HOTY - JadeCristine!
Whilst the pandemic tried to shut the world down, it couldn't stop our stunning Hottie Of The Year winner and our winner's photoshoot tradition! After taking out the most recent RedHotPie HOTY contest, winner, JadeCristine's first prize photoshoot was delayed months, but neither she, nor we, gave up! Recently we chatted with JadeCristine about her win, her RedHotPie history and her new party brand! We also collected a few sexy snaps from her winning shoot, so take a look below!
(RHP) How did you first hear about RedHotPie?
(JadeCristine) I matched with this guy a couple of years ago from one of the dating apps (as you do lol)
During our date he told me that he runs Parties. Back then I was a little bit naive and I didn't really know what sort of "Parties" he ran ?? Dance parties? Cool lol
He mentioned that he advertises on RedHotPie... I was more intrigued about RHP than I was about my date so I searched for it online after lol
So I have him to thank for at least haha
So how's your RHP adventure been thus far.
What an adventure it has been! I started off entering the amateur pic competitions. And remember my date? He noticed I joined RHP so he asked me if I wanted to attend his Parties as a VIP guest. I wasn't really ready back then to attend the parties so I suggested that maybe I can help with the parties instead. So from then on I've worked at RHP sponsored and featured events like Meet and Greets, sexy dance parties, swingers, kink BDSM, gangbangs and private play parties for a few different organisers. I worked at the bar, door entry, promo work and hosted a few of their parties. Loved working at a place where you can drink on the job and watch live porn lol
It's been so much fun ??
But since then I've always wanted to do my own parties because I love meeting new people and socialising. So this year I decided to just do it! I now run my own events on RHP and co-own BondiPlayParties.
We offer upmarket play parties. We also do social events like meet and greets, drink nights and beach days in between the play parties which we will hold every 2-3 months. 
And our Social Events are an opportunity to mingle and make connections with like minded people. And you get to meet new friends in a safe and non judgemental environment so come check us out! ??
In my opinion RHP is the best app around. I've met so many people from RHP, some that have become very good friends, from one on ones, 3somes (haha) and group settings at private parties and clubs.
Explore what RHP can offer you. I can't wait to see what else they have in store for us!
Well you've taken out the HOTY Comp - how did you first discover Am Pics?
The main reason I actually joined RHP was because of the Amateur Pic Competition. I joined the month after lockdown in April 2020 because what else was there to do when everyone was stuck at home? Might as well make the most of it and maybe even win some prize money while I was at it lol
How did you feel being part of the HOTY comp and then winning it all?
I couldn't believe it when they told me that I won the following year! Didn't even know there was an annual competition. Thought it was just the monthly ones.
I was of course very flattered, surprised and very grateful. 
I got more prize money, a photoshoot and got my hair and makeup done too! Thank you RHP! ??
Since I was on a high at the time, I decided to enter the monthly competition again in March 2021, just in time for my Birthday. So it was a great Birthday present when I won 1st place again and the Theme Award. Thank you to everyone that voted for me ??